A guaranteed fun day out discovering The streets & Secrets Of Manchester!
Welcome to our tour! This 2.5 hour Manchester walking tour with Joe will show you all the top attractions and insider stories of the city. 
Your local expert Joe will take you to all the must-see spots such as the filming sets of Peaky Blinders and Captain America, The venue of the start of the Football League, Northern Quarter artwork and so much more. 
You will go where buses simply can't, with stories from Joe  that no other tour can match. Joe will give you the history of Manchester and give you an authentic introduction to one of the world's favourite cities.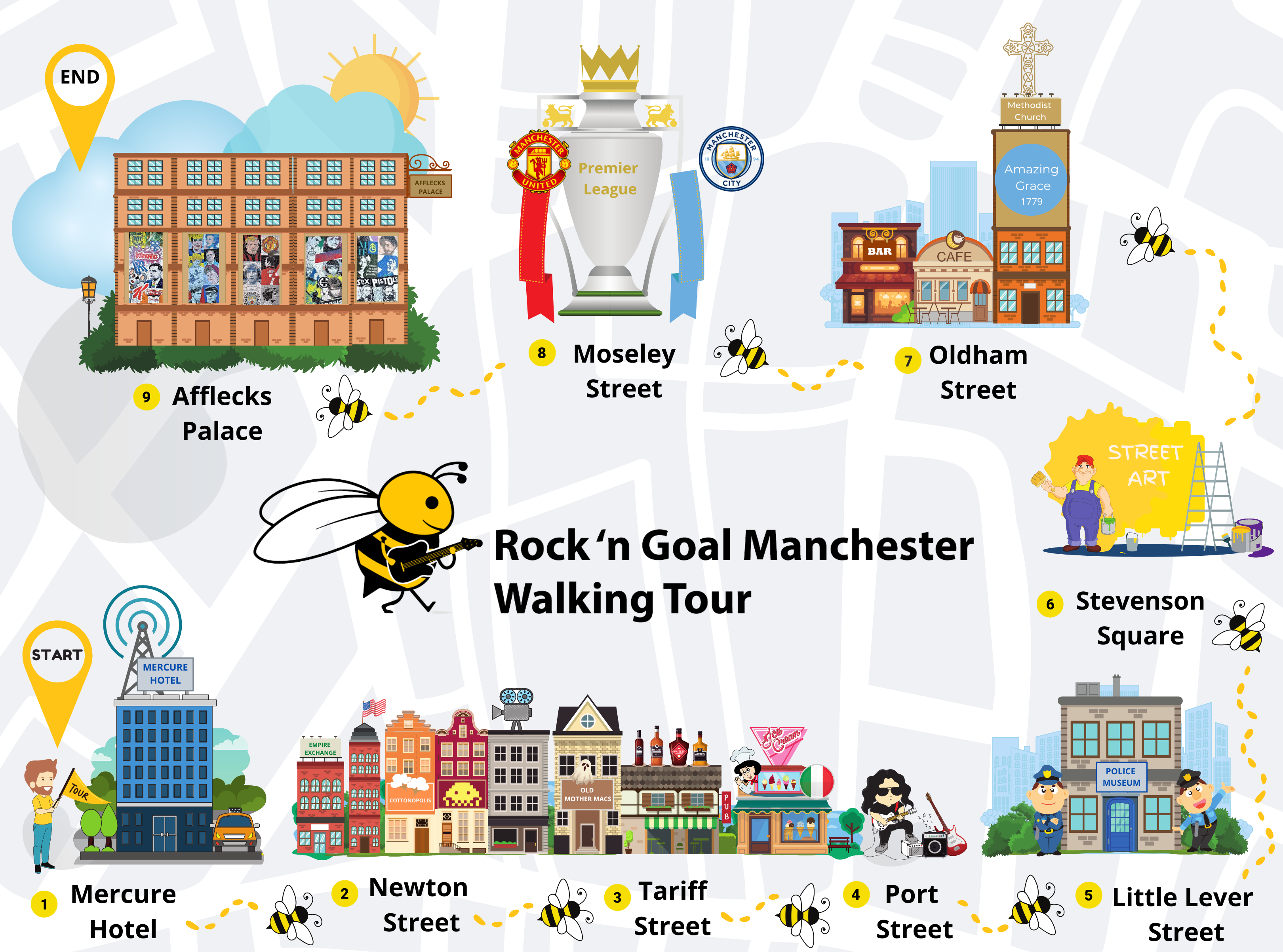 Enjoy this amazing manchester walking tour with your expert guide joe.
Joe lives and breathes everything Manchester. He grew up in the Haçienda days and has met or even knows  many famous bands such as Oasis which you will know and learn about on the tour!
Joe has also met and interviewed countless famous sporting heroes and pop legends in his journalistic career.
Joe has also played music all over the world alongside acts such as The Arctic Monkeys, The Enemy, Maximo Park and Pete Doherty. 🐝
Learn more about our wonderful city in our blog
Here you'll get to know much more about Manchester. Joe will teach you about the bands, art, sport and also the history and people, You'll also learn about the Manchester language (Yes we have our own dialect!). 🐝
Subscribe To Our newsletter
behind the scenes in manchester
Why Rock & goal is the perfect manchester walking tour!
Great People. Amazing Tour. marvellous Manchester.
what our New tourist Friends say about us
"Joe is a very nice tourist guide. He is very helpful and he knows Manchester from end to end. If you want to experience rock music and football in Manchester, he is the best."
Leonardo Konasugawa 🐝
Welcome to WordPress. This is your first post. Edit or delete it, then start writing!
amazing things you didn't know about Manchester
Did you know that Vegetarianism and Ice cream cones were invented in Manchester? Read about more Manchester fun facts below
If you are staying in Manchester be sure to check out our parthers at superhost+ who will surely be able to provide you with top quality airbnb accommodation in Manchester!